Gift Shop
Napa Valley Museum Gift Shop features an exclusive selection of products inspired by the museum's dedication to the artistic, historical and environmental heritage of the Napa Valley.
Check out our special selection of items relating to our current exhibit: "Lowell Herrero: Origins of an Original"
Grab the remaining merchandise from France is a Feast: the Photographic Journey of Paul & Julia Child!
The Napa Valley Museum Yountville has lots of great gift offerings, including a wide variety of merchandise relating to our recent world premiere exhibit: France is a Feast: the Photographic Journey of Paul & Julia Child. 
The Museum has a limited quantity of copies of the newly released and widely praised hardcover book which inspired the exhibit: France is a Feast: the Photographic Journey of Paul & Julia Child, signed by both authors Alex Prud'homme (Julia's grand nephew and memoir co-author) and the exhibit's curator Katie Pratt. The Museum also offers a very limited number of remaining signed giclees and limited edition prints from the exhibit, which showcase Paul Child's extraordinary photos of Paris as well as his photos of his wife Julia, before she became a world-famous chef. We also have exhibition posters featuring photos of Julia Child, other Julia-related books, and our exclusive and popular "France is a Feast" dishtowel – which provides a great way to wrap up a gift of wine while supporting the arts.
Explore our incredible Lowell Herrero Books, Posters & Gifts!
We have a wide variety of extraordinary merchandise relating to "Lowell Herrero: Origins of an Original," including books, limited edition book with giclee, calendars, cards, mugs and other great products. And of course, we have a full selection of Herrero posters, limited editions, and giclees for sale.
Give the Gift of Museum Admission!
Visitors can also come into the Museum and obtain a gift card for Museum Admission. Gift certificates in larger amounts allow a museum visit plus a purchase in our french "bouquinistes" (french books stalls) in the Main Gallery.
Give the gift of Museum Membership and Museum Logo Merchandise
The Museum also sells gift Memberships in wrapped boxes, starting at $50, including our most popular Reciprocal Membership at $150 – which benefits the Museum while entitling the member to visit 950 Museums in North America. Gift memberships make great employee bonuses and corporate gifts, as well as individual presents for birthdays, graduations and holidays. A number of our long-time members first joined when their real estate agent, insurance broker or attorney bought them a gift membership to celebrate an important closing or home purchase – and it's a gift that people remember with gratitude for decades to come. And we have a new line of Napa Valley Museum Yountville branded gifts including great hats and mugs, as well as posters and prints from our other exhibitions.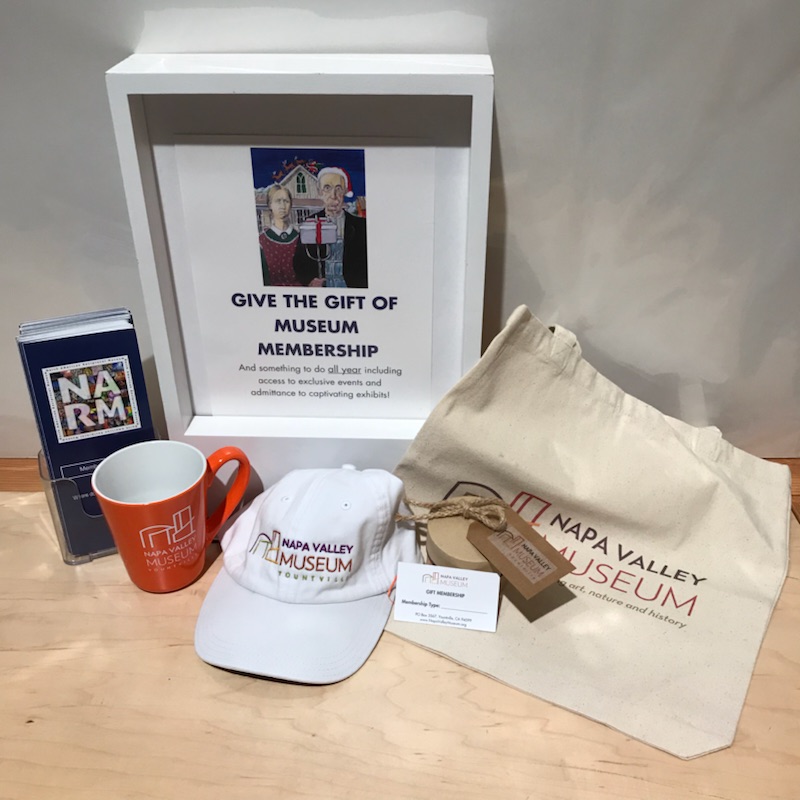 About the Gift Shop:
The Gift Shop carries the work of artists and craftspeople from across the country and offers a wide variety of media, including clay, wood, glass, metal, fiber and jewelry. It also sells a range of books about local and regional history, unique gifts for kids and special merchandise related to the Museum's exhibitions.
We are pleased to feature a collection of posters commemorating all of our recent Museum Exhibitions.