Opening Celebrations California Dreamin' Rogers/Chandon; Bessell Surfboards
Main Gallery
September 1, 2018
■
September 1, 2018
Opening Celebration Saturday, September 1 from 5 to 7:30 PM for
California Dreamin' – paintings by Melissa Chandon and Matt Rogers
Surboard Artist Tim Bessell
TICKETS to the Opening Celebration are on our WEBSITE or via EVENTBRITE

Please join our Opening Celebrations with the Artists on Saturday, September 1 from 5 – 7:30 pm for two exhibits:
California Dreamin' – paintings by Melissa Chandon & Matt Rogers in the Main Gallery
and Surfboard Artist Tim Bessell in the Spotlight Gallery
The Celebration is FREE for members; $20 for Non-Members.
More information about California Dreamin' HERE
More information about Surfboard Artist Tim Bessell HERE
Wines for the Opening will be provided by Longboard Vineyards of Healdsburg. Also featured in the exhibit are rare "woody" wagons: a 1939 Packard and a 1948 Buick.
From August 30 through October 28, 2018 in the Main Gallery, Napa Valley Museum Yountville will present: California Dreamin'. Melissa Chandon and Matt Rogers' joint exhibition at the Napa Valley Museum Yountville embodies the idyllic "California Dream" of freedom and vitality. Paintings of palm trees, lifeguard stations, and woody-style station wagons carrying surfboards set against expansive blue skies capture the indelible collective memory of the relaxed, carefree beach lifestyle that took hold of imaginations around the world in the 1960s.  With their vivid dream-like palettes and sense of light and air, Chandon and Rogers have each earned reputations for depicting the essential character of the Golden Coast. This exhibition – which also includes rare woody cars, surfboards and other elements of surf culture – unites the artists' visions, celebrating a moment in time when the world collectively dreamed of the fun and sun of 1960's California, and embraced its spirit of love, peace, and connection.
Melissa Chandon and Matt Rogers are represented by Caldwell Snyder Gallery, a leading contemporary art gallery representing many of the most significant international painters and sculptors of the 21st century.
---
In the Spotlight Gallery August 30 through October 28, 2018: Surfboard Artist Tim Bessell. La Jolla-based contemporary California artist Timothy Bessell is known for the distinctive handmade surfboards he's created throughout his career, having shaped more than 46,000 over the course of his lifetime.Bessell's Artist Series surfboards pay homage to famous artists who have inspired him, including iconic pop artist Andy Warhol. Released in very limited editions, these handmade works, created in collaboration with the Warhol Foundation, take Warhol's graphics and combine them with Bessell's most popular surfboard shapes. Surfboards for sale during the exhibit will benefit the Museum's arts and education programs.
TICKETS to the Opening Celebration are on our WEBSITE or via EVENTBRITE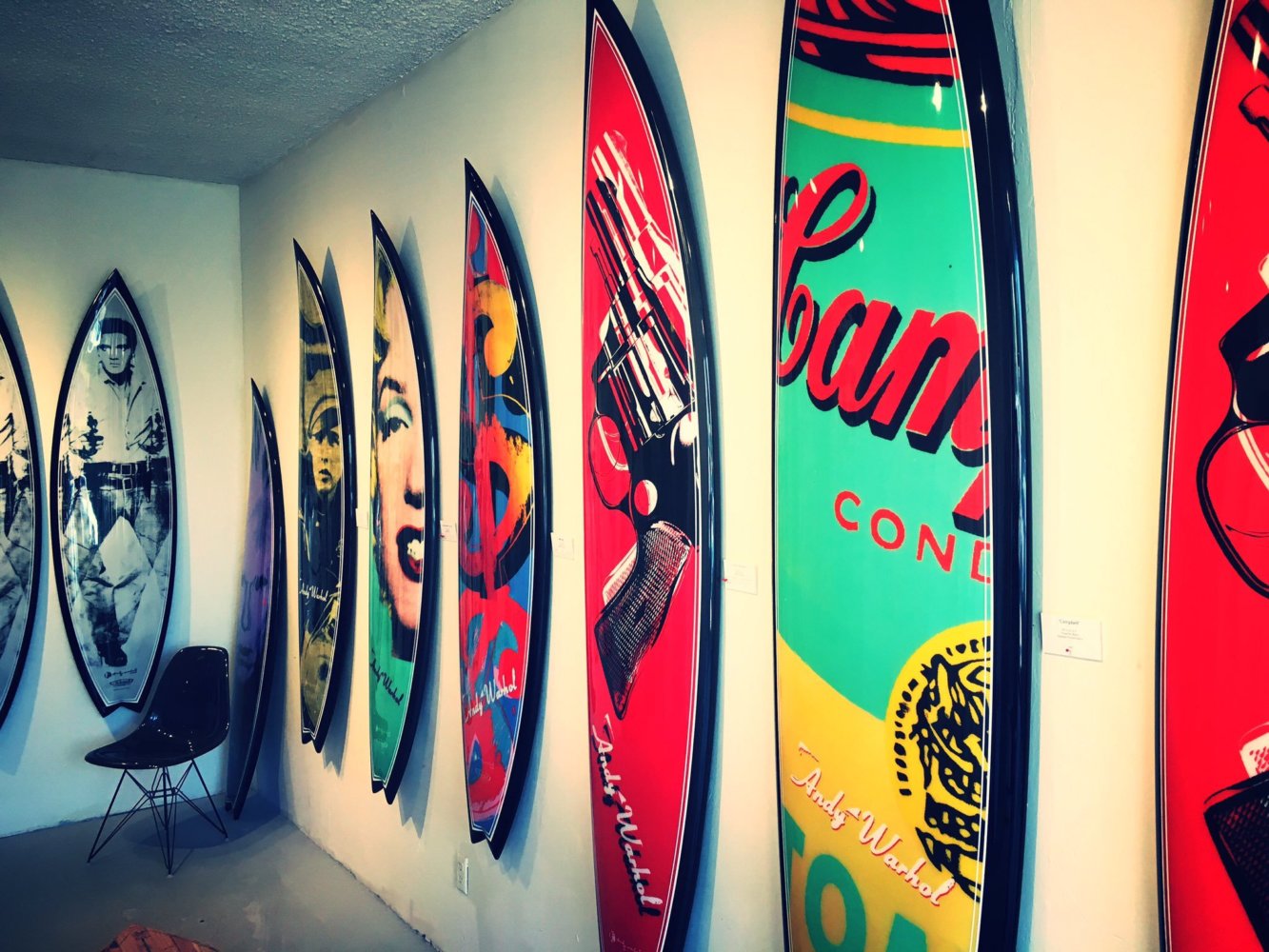 About Longboard Vineyards
Try balance, a determination to follow your passion and a healthy respect for nature for starters. Then, realize that both surfers and winemakers spend a lifetime searching for near perfect conditions so they can capture and express a special moment in time; a great vintage, a perfect swell… Longboard Vineyards was established in 1998 by Oded Shakked as a way to bring these two passions together. A life-long surfer, Oded travelled and surfed the Atlantic Coast of Europe, the waters of Australia, Hawaii, Central America, Mexico, and both the Atlantic and Pacific Coasts of the US. As a winemaker with close to 30 years of experience in Sonoma County, Oded has worked with the region's best grapes and grape-growers in addition to farming his own grapes on Westside Road just outside the town of Healdsburg. At Longboard, Oded and his team craft wines that display a sense of place and share them in a relaxed, button-down atmosphere of the tasting room in downtown Healdsburg. Longboard Vineyards is an invitation for you to come and join our quest for individuality and excellence in wine. Learn more at https://www.longboardvineyards.com/