Opening Celebration: Lucy Liu & the Yates Collection
Main Gallery
February 1, 2020
■
February 1, 2020
The Opening Celebration for all current exhibitions will take place on Saturday, February 1, 2020 from 5 to 7 pm and is Free for Museum Members;  $20 for Non-Members, and includes Museum Admission, wines by BV Beaulieu Vineyards and light bites. Proceeds will benefit the Napa Valley Museum Yountville's 501c3 nonprofit arts and education programs.
On February 1 we will celebrate the first U.S. museum exhibition of paintings and sculpture by Lucy Liu, the Artist, Actress and Advocate, entitled: "Lucy Liu: One Of These Things Is Not Like The Others."  An accomplished artist whose work was recently exhibited at the National Museum of Singapore, Liu has created an impressive collection of deeply personal artworks, ranging from large-scale paintings to inventive mixed media works to intricate wood sculptures.
Please note: Lucy Liu will not be present at the February 1 exhibition opening, but will be represented there by the exhibition's co-curator Daniel Chen, the director of Chambers Fine Art, who represents her artwork. Liu will visit Yountville to serve as Keynote Speaker at the Museum's February 25 "Phenomenal Women" fundraising luncheon, held in the Museum's main gallery in Yountville, and has generously donated an original work of silkscreen and hand painted acrylic on paper: "Freshly Squeezed III", for auction to benefit the museum's arts education programs.
Also celebrated on February 1 will be
The Yates Collection, in the Spotlight Gallery, February 1 through March 22, 2020, which showcases exquisite works collected by the Yates Foundation and on long-term loan to the Museum, including works by Matisse, Pissarro, Picasso, and Chagall; and
In the new History Gallery, our permanent history exhibition: "Land and People of the Napa Valley." Our popular history cases return from their tour of downtown Napa in a new permanent gallery configuration, including the new Veterans Home history display.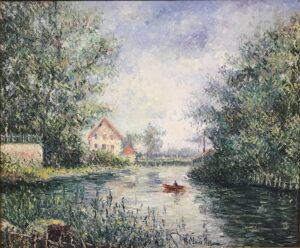 featured image: Hugues Claude Pissarro, Interior Bourgeois,1941, Oil on Canvas, from the Yates Collection.
featured image above: Lucy Liu in her studio