Museum Store
Shop the Museum Store whenever the Museum is Open!
Museum admission is NOT required to shop in our Museum Store
ask the Gallery Manager for a special Shop the Museum badge – we think you'll want to come back to see the exhibition!
The Museum Store at the Napa Valley Museum Yountville features an exclusive selection of products inspired by the museum's exhibitions and programs. Check out our special selection of limited edition prints and giclees, posters, books, journals, gifts, toys, art supplies and other great merchandise.
NOW AVAILABLE!
The companion book to our recent exhibition: "Juanita Guccione: Otherwhere"
Published by the Napa Valley Museum Yountville and Weinstein Gallery (Hardcover, 2019)
Edited by Kendy Genovese and Melanie Cameron, Introduction byGloria Feman Orenstein, Written by Susan L. Aberth, Ilene Susan Fort and Tabitha Morgan.
Read more about the Authors HERE
This book is available for purchase in the Museum Store for $85.
Shipping is available:
Book + tax: $91.59
Shipping – Ground w/tracking number: $10.00
Total charge: $101.59
Please send email inquiries to Store@napavalleymuseum.org or call 707.944.0500 x 107
Contact store@napavalleymuseum.org
Read more about the Juanita Guccione exhibition HERE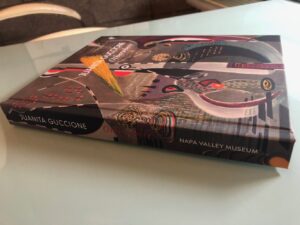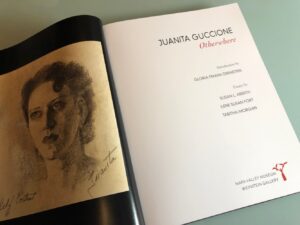 And in our "Julia Child" section, we have signed copies of the book: "France is a Feast: the Photographic Journey of Paul & Julia Child."
About the Gift Shop:
The Gift Shop carries the work of artists and craftspeople from across the country and offers a wide variety of media, including clay, wood, glass, metal, fiber and jewelry. It also sells a range of books about local and regional history, unique gifts for kids and special merchandise related to the Museum's exhibitions.
We are pleased to feature a collection of posters commemorating all of our recent Museum Exhibitions.
For our latest items, please visit our "Shop the Museum Store" event page HERE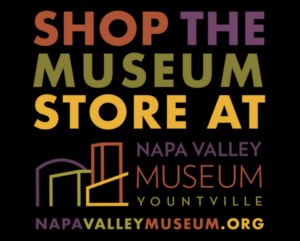 Give the Gift of Museum Admission!
Purchase a gift certificate for Museum Admission for your friends and family, colleagues and customers. The Museum also sells gift Memberships in wrapped boxes, starting at $50, including our most popular Reciprocal Membership at $150 – which benefits the Museum while entitling the member to visit 950 Museums in North America. Gift memberships make great employee bonuses and corporate gifts, as well as individual presents for birthdays, graduations and holidays. A number of our long-time members first joined when their real estate agent, insurance broker or attorney bought them a gift membership to celebrate an important closing or home purchase – and it's a gift that people remember with gratitude for decades to come.
Be "Museum Proud" with NVMY Museum Logo Merchandise
Show your commitment to the arts and to local history and education with our line of Napa Valley Museum Yountville branded gifts including great hats and mugs.