Staff
We look forward to hearing from you.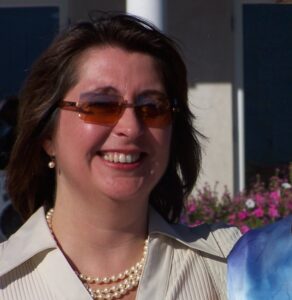 Laura Rafaty
Executive Director
ext. 110
Laura Rafaty is an experienced nonprofit arts leader, producer and writer, and also brings decades of both nonprofit and for-profit business and legal experience to her position as Executive Director. A veteran of local nonprofits including the Napa Valley Performing Arts Center at Lincoln Theater, Friends of the Cameo Cinema, and the Napa Valley Opera House, as well as nonprofits in New York and Palo Alto, she is a Tony-nominated theatrical producer and founder of NapaShakes, and a former retailer selling limited editions and originals by artists including Lowell Herrero and Aaron Foster. Laura lives in Saint Helena with a dog and a particularly opinionated cat, and leads with sparkle and silliness – plus a propensity to email the staff at all hours – ensuring that there is never a dull moment at the Museum.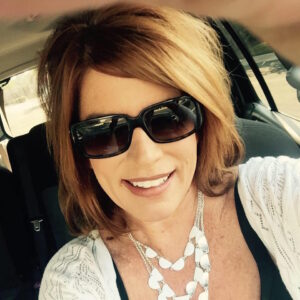 Cindy Taylor
Finance & Administrative Manager
ext. 109
Cindy Taylor, Finance Administrator, brings 25 years of bookkeeping experience, a sassy attitude, and a bright smile to her position running the Museum's finance and administrative functions. Cindy has lived in Napa for 19 years working as a bookkeeper and financial administrator for a variety of businesses including Thomas Bartlett Interiors. She studied early childhood development at Napa Valley College and has two children, Luke and Megan, with whom she loves to enjoy the outdoors, camping and fishing. Cindy also enjoys travel, loudly streaming her eclectic mix of music (from Rap to Salsa to Soft Jazz) at her desk, and sweetly bossing everyone around – earning her the nickname: "cupcake."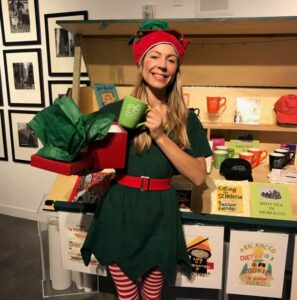 Ariel Loraine
Exhibitions & Programs Manager
ext. 111
Ariel Loraine, Exhibitions & Programs Manager, is originally from Canada. She completed her BFA in Theater Design at Concordia University and has worked with many independent theater companies and festivals in Montreal and Toronto, as well as with corporations handling event production, and exhibit and display design and manufacture, including display design and fabrication for Urban Outfitters. She is an accomplished designer, woodworker, artist, and technician, as well as a set designer and painter, who has created sets for the Cafeteria Kids musicals at the Lincoln Theater, and served as Production Manager for Napa Shakes. Ariel designs and builds our exhibits, and manages the Museum's programs and events, relying on her inventive and transformative aesthetic, along with her unnervingly superhuman physical strength (her muscles have earned her the nickname "Guns"), to get the job done.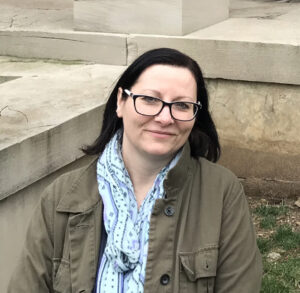 Cynthia Langlois-Yallop
Membership & Donations Consultant
ext. 101
Cynthia will be working with us on our Membership and Donor systems, databases and communications.  Cynthia is a 2ndgeneration lifelong local of Napa who has worn many hats during her working career. She learned so much in her youth working 20 years with a local rock, mineral and fossil company. She shifted gears nearly a decade ago, and went into the music entertainment world where she was part of the grand re-opening of Uptown Theatre learning box office, artist hospitality and so much more. She initiated and handled their membership program, and also went on to become Executive Director. From there she helped launch and open a new Napa venue, Blue Note, in the historic Napa Valley Opera House. There, she put her years of working knowledge to good use on a daily basis, becoming a core centric person in the operation and added Talent Booking to her dynamic repertoire.  She loves spending time with her family and their 2 dogs and 3 cats. She advocates for eco-friendly living, and enjoys cooking, reading, history, music, touring museums, traveling, gardening, attending plays and concerts (avid U2 fan!), whale watching, vintage cars and fashion, and watching movies.
Jonathan "JON" Fetzer

Museum Gallery & Store Manager
Jonathan "JON" Fetzer joins the team as our new Museum Gallery & Store Manager. JON is a multi-disciplinary visual artist. musician and producer who received his B.A. in Music Industry Business. A local guy who attended New Tech High, he has worked in several talent agencies as well as a Box Office and House Manager for the Blue Note in Napa. As a musician, he has worked at many festivals and events, and his work garnered a feature in the Napa Register. 
Please come say Hi to JON at our front desk when you next visit our galleries and our Museum Store.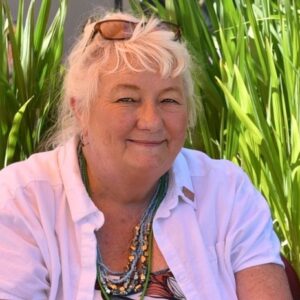 Kathleen Stewart
Registrar
Kathleen Stewart, Collections Registrar, brings with her a degree in Fine Arts with an emphasis in Printmaking as well as a minor in Art History and Museum Studies from Southern Oregon University, Ashland, Oregon. Kathleen says it best: "Combining a lifelong love and appreciation Fine Art, History, Science, and Museums prepares me well for the research, preservation, and care of artifacts. Working as a printmaker for several years in Oregon, making copper plate etchings, gives me an understanding of the craft of art disciplines. I look forward to continuing working in Collections as a Registrar as I have been volunteering in Collections and the Gallery for the past several years. I am excited to join the staff at Napa Valley Museum Yountville and look forward to serving the community on Thursdays and Fridays."
Open Position
Facilities Manager
Andrew Sattui-Nolan
Gallery Assistant
Andrew joins our team behind the front desk and also helping with our events at the Museum. He brings an artistic sensibility, a refined sense of aesthetics, and experience in hospitality, to the position. Andrew says: "I am a writer, graduate researcher, dramaturg, and service professional. Presently, I am finishing my Masters degree in Philosophy at San Francisco State University where I work closely with both Minorities in Philosophy (MAPs) and the Aesthetics branch of the department to further diverse cultural and LGBTQ+ expression and participation in the humanities. I thrive on group and presentational opportunities and have worked in the hospitality industry for more than 15 years. I am patient, industrious, and a strong believer in advocating for both my fellow staff, the artistic community and the arts at large."
Nway Nway Sein Myint
Nway comes to us with a passion for education, kids and the arts, plus an impressive business background. She has an MFA in Motion Picture screenwriting, editing and directing, a post-grad diploma in Teaching English, and a Bachelor's Degree in English Literature and Literary Criticism. She has an extensive background in film production and media, and as a translator – she speaks both English and Burmese. Nway brings hands-on classroom experience from the Visual Arts Department at the Napa Valley College, where she worked on student art exhibitions and art classes; she also handled the box office for the College theater, and handled admissions and records. Most recently she has been working at the Youth Center for children at Travis Air Force Base. She will work in the Gallery on Saturdays, and also organize and manage our rental program for Kids Birthday Parties and Art Classes at the Museum.