Staff
We look forward to hearing from you.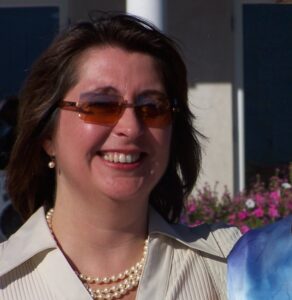 Laura Rafaty
Executive Director
ext. 110
Laura Rafaty is an experienced nonprofit arts leader, producer and writer, and also brings decades of both nonprofit and for-profit business and legal experience to her position as Executive Director. A veteran of local nonprofits including the Napa Valley Performing Arts Center at Lincoln Theater, Friends of the Cameo Cinema, and the Napa Valley Opera House, as well as nonprofits in New York and Palo Alto, she is a Tony-nominated theatrical producer and founder of NapaShakes, and a former retailer selling limited editions and originals by artists including Lowell Herrero and Aaron Foster. Laura lives in Saint Helena with a dog and a particularly opinionated cat, and leads with sparkle and silliness – plus a propensity to email the staff at all hours – ensuring that there is never a dull moment at the Museum.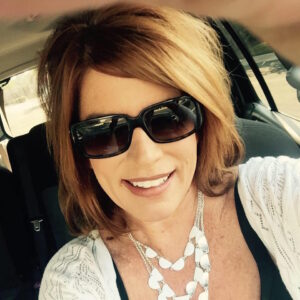 Cindy Taylor
Finance & Administrative Manager
ext. 109
Cindy Taylor, Finance Administrator, brings 25 years of bookkeeping experience, a sassy attitude, and a bright smile to her position running the Museum's finance and administrative functions. Cindy has lived in Napa for 19 years working as a bookkeeper and financial administrator for a variety of businesses including Thomas Bartlett Interiors. She studied early childhood development at Napa Valley College and has two children, Luke and Megan, with whom she loves to enjoy the outdoors, camping and fishing. Cindy also enjoys travel, loudly streaming her eclectic mix of music (from Rap to Salsa to Soft Jazz) at her desk, and sweetly bossing everyone around – earning her the nickname: "cupcake."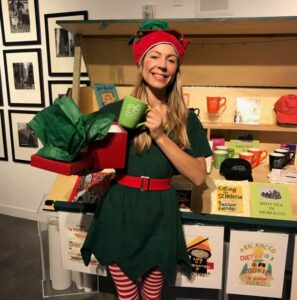 Ariel Loraine
Exhibitions & Programs Manager
ext. 111
Ariel Loraine, Exhibitions & Programs Manager, is originally from Canada. She completed her BFA in Theater Design at Concordia University and has worked with many independent theater companies and festivals in Montreal and Toronto, as well as with corporations handling event production, and exhibit and display design and manufacture, including display design and fabrication for Urban Outfitters. She is an accomplished designer, woodworker, artist, and technician, as well as a set designer and painter, who has created sets for the Cafeteria Kids musicals at the Lincoln Theater, and served as Production Manager for Napa Shakes. Ariel designs and builds our exhibits, and manages the Museum's programs and events, relying on her inventive and transformative aesthetic, along with her unnervingly superhuman physical strength (her muscles have earned her the nickname "Guns"), to get the job done.
Sunny Bradford
Membership & Volunteer Coordinator
ext. 106
Sunny is an accomplished professional who has worked as a human resources consultant, with a focus on professional and organization development. She has also been a committed volunteer for several non-profit organizations, including service as a board member. She holds a BA and MA in Sociology, and a PhD in Education, along with many years of experience in volunteer training and coordination, and most recently was the Director of Learning & Organizational Effectiveness at St. Mary's College. Her personal interests include touring museums, viewing music, theater and dance performances, attending films festivals, and day-hiking. Sunny is qualified on the Myers Briggs personality inventory, and is a certified mediator – two very useful skills in any non-profit arts organization! Sunny will be with us part-time to help organize and coordinate our membership and volunteer programs.
MIchele Laurence
Museum Gallery & Store Manager
Michele Laurence joins the team as our new  Museum Gallery & Store Manager. Michele has a degree in Art History and an extensive background in design and retail. She owned and operated the beloved store Muse in St Helena for a decade, and also worked at Vintage Home and at Blackbird in Calistoga. She brings great taste, solid retail experience, and a sense of fun to the position — kind of a wacky Zen Goddess who enjoys interacting with humans, especially when they are purchasing awesome Museum swag.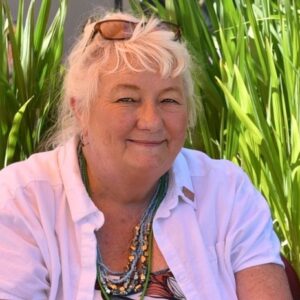 Kathleen Stewart
Registrar
Kathleen Stewart, Collections Registrar, brings with her a degree in Fine Arts with an emphasis in Printmaking as well as a minor in Art History and Museum Studies from Southern Oregon University, Ashland, Oregon. Kathleen says it best: "Combining a lifelong love and appreciation Fine Art, History, Science, and Museums prepares me well for the research, preservation, and care of artifacts. Working as a printmaker for several years in Oregon, making copper plate etchings, gives me an understanding of the craft of art disciplines. I look forward to continuing working in Collections as a Registrar as I have been volunteering in Collections and the Gallery for the past several years. I am excited to join the staff at Napa Valley Museum Yountville and look forward to serving the community on Thursdays and Fridays."
---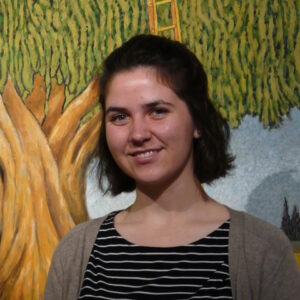 Maura Wilson
Intern
Maura Wilson is our newest intern. She has a BA in Art History and is completing an MA in Humanities at Dominican University, with an Art History emphasis. Maura held a curatorial internship at Di Rosa Preserve and comes to us with two years of experience as an archival assistant at Dominican. In her spare time, she enjoys reading and antiquing. Maura is working with our Collections Registrar and our Exhibitions & Programs Manager.
Chase Langton
Intern
Chase Langton is working as an intern at The Napa Valley Museum through mid-May, 2019. He's finishing his BA in history at Sonoma State University this semester. Chase is a fluent Spanish speaker and has studied the history of Europe, the Americas, and Africa. He has a special interest in the history of indigenous peoples in the U.S. and Mexico. At NVM, Chase is assisting our Collections Registrar and our Exhibitions & Programs Manager.