Staff
We look forward to hearing from you.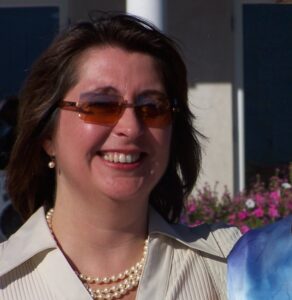 Laura Rafaty
Executive Director
ext. 110
Laura Rafaty is an experienced nonprofit arts leader, producer and writer, and also brings decades of both nonprofit and for-profit business and legal experience to her position as Executive Director. A veteran of local nonprofits including the Napa Valley Performing Arts Center at Lincoln Theater, Friends of the Cameo Cinema, and the Napa Valley Opera House, as well as nonprofits in New York and Palo Alto, she is a Tony-nominated theatrical producer and founder of NapaShakes, and a former retailer selling limited editions and originals by artists including Lowell Herrero and Aaron Foster. Laura lives in Saint Helena with a dog and a particularly opinionated cat, and leads with sparkle and silliness – plus a propensity to email the staff at all hours – ensuring that there is never a dull moment at the Museum.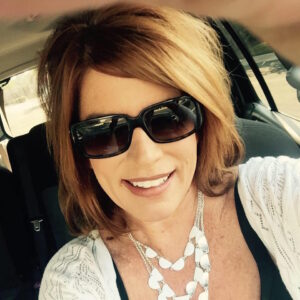 Cindy Taylor
Finance & Administrative Manager
ext. 109
Cindy Taylor, Finance Administrator, brings 25 years of bookkeeping experience, a sassy attitude, and a bright smile to her position running the Museum's finance and administrative functions. Cindy has lived in Napa for 19 years working as a bookkeeper and financial administrator for a variety of businesses including Thomas Bartlett Interiors. She studied early childhood development at Napa Valley College and has two children, Luke and Megan, with whom she loves to enjoy the outdoors, camping and fishing. Cindy also enjoys travel, loudly streaming her eclectic mix of music (from Rap to Salsa to Soft Jazz) at her desk, and sweetly bossing everyone around – earning her the nickname: "cupcake."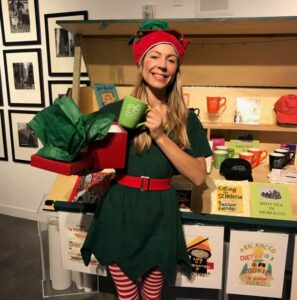 Ariel Loraine
Exhibitions & Programs Manager
ext. 111
Ariel Loraine, Exhibitions & Programs Manager, is originally from Canada. She completed her BFA in Theater Design at Concordia University and has worked with many independent theater companies and festivals in Montreal and Toronto, as well as with corporations handling event production, and exhibit and display design and manufacture, including display design and fabrication for Urban Outfitters. She is an accomplished designer, woodworker, artist, and technician, as well as a set designer and painter, who has created sets for the Cafeteria Kids musicals at the Lincoln Theater, and served as Production Manager for Napa Shakes. Ariel designs and builds our exhibits, and manages the Museum's programs and events, relying on her inventive and transformative aesthetic, along with her unnervingly superhuman physical strength (her muscles have earned her the nickname "Guns"), to get the job done.
Sunny Bradford
Membership & Volunteer Coordinator
ext. 106
Sunny is an accomplished professional who has worked as a human resources consultant, with a focus on professional and organization development. She has also been a committed volunteer for several non-profit organizations, including service as a board member. She holds a BA and MA in Sociology, and a PhD in Education, along with many years of experience in volunteer training and coordination, and most recently was the Director of Learning & Organizational Effectiveness at St. Mary's College. Her personal interests include touring museums, viewing music, theater and dance performances, attending films festivals, and day-hiking. Sunny is qualified on the Myers Briggs personality inventory, and is a certified mediator – two very useful skills in any non-profit arts organization! Sunny will be with us part-time to help organize and coordinate our membership and volunteer programs.
Katelyn Huss
Visitor Services & Museum Store Manager
Katelyn Huss, Visitor Services & Museum Store Manager, serves as the friendly face of the Museum to our Members, Volunteers and Visitors, helping to create and maintain a happy, safe and secure Museum environment. You've seen Katelyn four days a week staffing the gallery's front desk, and since her graduation from Sonoma State University (with a degree in Art History), you will now see her whenever the Museum is open: Wednesdays through Sundays from 11 to 4.  She also manages our Museum store and art sales. A native Napan, Katelyn went to New Tech High, and graduated from Napa Valley College with a A.S. in Natural Science & Mathematics. With a passion for Historic Preservation, she spends her free time drawing, antiquing and restoring old antiques (furniture, singer sewing machines, typewriters, telephones, upholstery), watching old movies, visiting Museums and reading and expanding her knowledge about artifacts and history. Stop by the Museum and say "Hello" to Katelyn soon!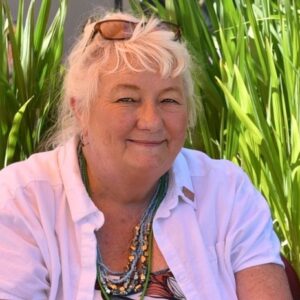 Kathleen Stewart
Registrar
Kathleen Stewart, Collections Registrar, brings with her a degree in Fine Arts with an emphasis in Printmaking as well as a minor in Art History and Museum Studies from Southern Oregon University, Ashland, Oregon. Kathleen says it best: "Combining a lifelong love and appreciation Fine Art, History, Science, and Museums prepares me well for the research, preservation, and care of artifacts. Working as a printmaker for several years in Oregon, making copper plate etchings, gives me an understanding of the craft of art disciplines. I look forward to continuing working in Collections as a Registrar as I have been volunteering in Collections and the Gallery for the past several years. I am excited to join the staff at Napa Valley Museum Yountville and look forward to serving the community on Thursdays and Fridays."
---
Elizabeth Laning
Intern
ext. 104
Liz comes to us with a Bachelor's Degree in Communications/ Journalism with a minor in Art History from UC Berkeley.
Here are her faves:
"I love traveling— My favorite places in the world are Phuket, Thailand; Barcelona, Spain; and Istanbul, Turkey. I love visiting places for extended amounts of time to immerse myself and to try to learn about the culture. I spent 1 month in Thailand,  and studied abroad for 3 months in Sussex, England. I just got back from living in Turkey for 5 months, working as an English tutor.
And her hobbies:
I love running, (Really) amateur painting, Reading books about the history of the English royal family. I'm obsessed. You can ask me anything about the War of the Roses. I love camping/outdoors. and I love volunteering—I will also be working with the adult literacy program at the Napa Valley Library."