50th Anniversary Raffle – Win a Stellar 50 Wine Cellar!
Main Gallery
September 18, 2022
■
October 23, 2022
Win an instant wine cellar!
Celebrate the Museum's 50 Years with a 50 Bottle Wine Raffle.
Tickets available through October 23, 2022 at the Museum
or from a Board Member Near You!
BRING HOME A DAZZLING SELECTION of RED,WHITE, and SPARKLING WINES!
Outstanding varietals and vintages, Donated by the Trustees of the Napa Valley Museum
TICKETS AVAILABLE NOW at the FRONT DESK! $50 EACH [only 200 will be sold]
Important details: Must be 21 to enter. All bottles are 750ml. Drawing will be on Sunday, October 23, 2022 at 4 PM. Winner need not be present.
Raffle winner is required to pick up the wines from the Napa Valley Museum or arrange for shipping.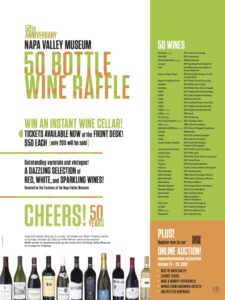 Board Members are standing by now to take your money!
All to benefit the Museum's 501c3 nonprofit arts and education programs.
Tickets are selling fast – stop by and get yours now!
PLUS register now for our 50th anniversary online auction HERE