All the Restaurants of Napa Valley – John Donohue
History Gallery
August 6, 2022
■
October 2, 2022
From August 6 through October 2 in the History Gallery, a display of the distinctive sketches of the artist John Donohue.
(featured image: Mustards Grill, Yountville by John Donohue)
A Delicious Visual Journey Through Napa Valley's Culinary Landscape.
Don't miss Jess Lander's Feature on "All the Restaurants of Napa Valley" in the 8/3/22 San Francisco Chronicle!
See the collected works John Donohue created in the Napa Valley on display, and purchase prints to celebrate your own memories of great nights of fine dining, Napa Style. A portion of proceeds of print sales and auctioned works has been generously donated by the artist to benefit the Museum's arts education programs. View and purchase Napa Valley images here: All the Restaurants of Napa Valley
Former New Yorker editor and self-taught artist John Donahue, who has famously sketched all the restaurants of Paris, New York and London in distinctive hand-drawn style, now turns his pen to capture Napa Valley's most memorable eating establishments. Donohue draws in ink and from life, meaning he stands in front of a place and makes no corrections. He finishes all drawings in his signature one-color style, often embellished with one distinctive accent color taken from an awning or design element of the restaurant, and sells signed, limited edition prints. Sales of his works have often benefited restaurant workers and other charities.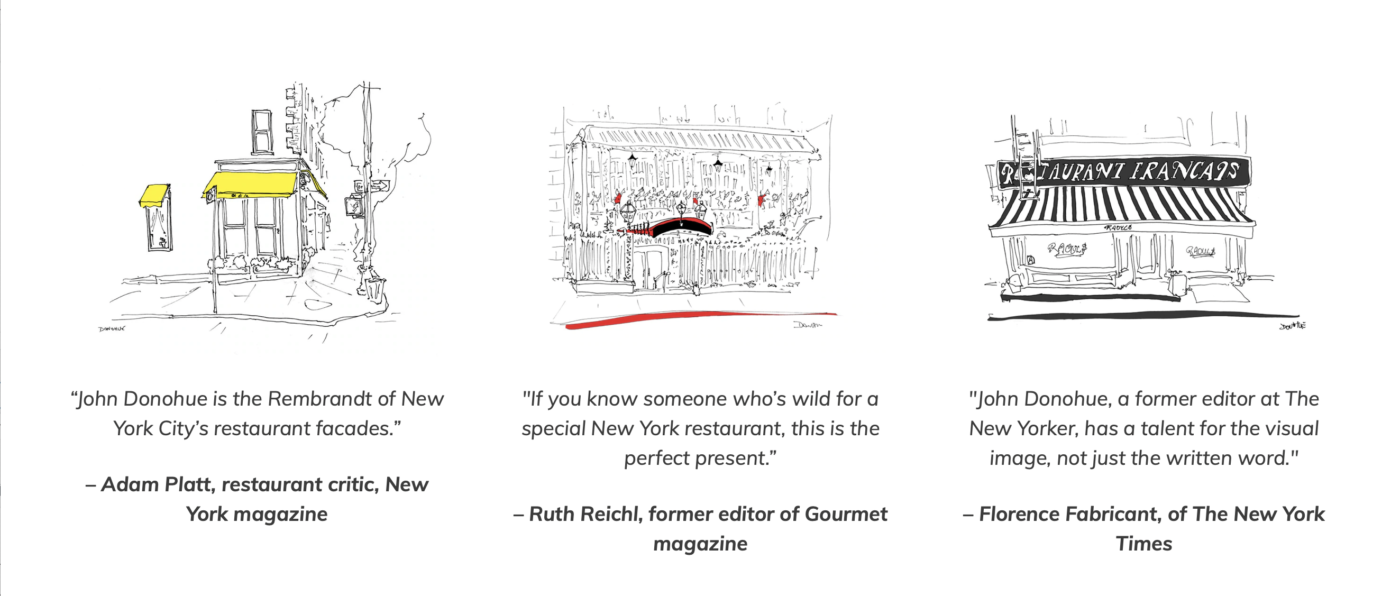 About John Donohue
John Donohue began creating whimsical drawings of New York City restaurant facades in 2017. Since then, he has completed hundreds of illustrations, many of them posted on his website: alltherestaurants.com. He has also penned two books collecting images of his works: All The Restaurants in New York City (Abrams, 2019) and A Table in Paris (Abrams, 2021). HIs first book Man with a Pan was a New York Times bestseller, in 2011. He lives with his family in Brooklyn and draws at least twice a day.
Special thanks to Janet Herrero, Visit Napa Valley and the Yountville Chamber of Commerce for their generous support of this exhibition.
All images printed with exceptional care by the exhibition print team at Skink Ink, NYC