The Great California Road Trip 1962
History Gallery
May 20, 2023
■
October 8, 2023
In the History Gallery from May 20 through October 8, 2023
A nostalgic look back at travel by car in California, circa 1962.
To millions around the globe, California means "Vacation." The state's diverse topography offers sunny beaches and snowcapped mountains within a same-day drive. The attractions are many, and California's car culture was designed with the roadside traveler in mind.
"Travel through California visiting its historic roadside attractions through the lens of a 1962 road trip. Relive the nostalgia of the Nut Tree, Knott's Berry Farm, and Children's Fairyland, and many more through posters, postcards, signs, and memorabilia of a bygone era. Then plan your own roadmap to see the destinations you've been meaning to explore today. Happy motoring!"
Curated by Andrew Danish.
Andrew Danish has worked extensively with Stanford University and has art directed numerous Bay Area magazines. He now manages danishMODERN studio in Oakland, CA specializing in art direction, graphic design and photography. He has taught at both Stanford and UC Berkeley. His book "Palm Springs Weekend," co-authored with Alan Hess and published by Chronicle Books sold out four print runs.
EXCLUSIVE McBiff "California Road Trip" poster for sale in the museum store!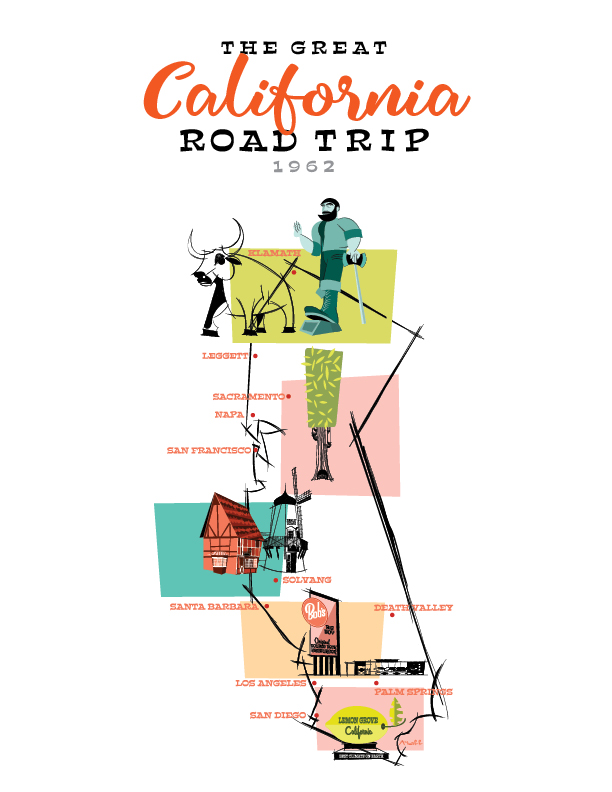 Thank you to the generous group of contributors who provided objects and resources for this exhibition!
McBiff
Eric Lynxwiler
Vacaville Museum
Enid Westburg
Bruce Kennedy
Randal Metz
Tom Borromeo
Don Ballard
Andrew Danish
Signarama Napa