Holiday Open House & Daddy-Daughter Book Signing
Main Gallery
December 4, 2022
■
December 4, 2022
Sunday December 4
Holiday Open House at the Napa Valley Museum Yountville
11-4 pm: Free all day for kids under 18. Holiday snacks for everyone!
1-3 pm: Holiday Daddy Daughter Book Signing and FREE gift
Meet Isabelle Bridges-Boesch!
Celebrate the Holidays at the Napa Valley Museum Yountville. Meet Isabelle Bridges-Boesch who will sign copies of her book: Daddy Daughter Day, illustrated by her father, Jeff Bridges. A book for daughters, fathers, and families, Daddy Daughter Day is a perfect holiday gift – and should you be so inspired, we'll have blank books available (quantities limited) for you to start your very own Daddy Daughter book and capture your own family's memories!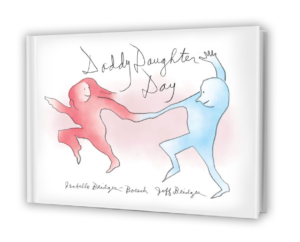 About "Daddy Daughter Day" Dark Horse Books (October 6, 2020)

Ask any father, or any daughter–the relationship between dads and daughters is special, and vitally important.
To a whole generation of filmgoers, Jeff Bridges is "the Dude," but to a more important group of people he is "Dad." The actor-musician-artist and one of his real-life daughters have teamed up to produce a book to inspire fathers and daughters–and whole families–to find the joy and closeness in their relationships.
When Belle announces to Dad that this day is "Daddy Daughter Day," it sparks a series of adventures that turns the house and the backyard into a clay work shop, a beauty parlor, and even a circus, with Mom and little brother Sammie getting involved!
Written by Isabelle Bridges-Boesch, and illustrated by Jeff himself, this is a book for daughters, fathers, and families to treasure all their lives!
About Isabelle:
I am the mother of two beautiful children who rock my world and still have the ability to take my breath away. I am perceptive, intuitive and a mother with my whole heart. I have been leading women's circles for the past 10 years and my next venture is The Mother's Empowerment Podcast. Some days I can be found dancing with my family. Other days you will find me simply staring at them in awe.
In 2020 my dad, Jeff Bridges, and I published our first children's book, Daddy Daughter Day. It's been so much fun sharing with the world some of the fun ways we used to spend time together.
And the fun isn't over yet!