Modern Women | Modern Vision: Works from the Bank of America Collection
Main Gallery
November 9, 2019
■
January 19, 2020
From November 9, 2019 through January 19, 2020, Napa Valley Museum Yountville presents
Modern Women | Modern Vision: Works from the Bank of America Collection

Opening Celebration Tickets HERE
In the Main Gallery, From November 9, 2019 through January 19, 2020, Napa Valley Museum Yountville presents Modern Women | Modern Vision: Works from the Bank of America Collection.
Modern Women | Modern Vision presents more than one hundred photographic images in celebration of the bold and dynamic ways women have contributed to the development and evolution of photography. This world-premiere exhibition features works by some of the leading artists of the twentieth and early twenty-first centuries including Imogen Cunningham, Diane Arbus, Berenice Abbott, Margaret Bourke-White, Eva Besnyö and Barbara Morgan, all influential Modernist photographers. It includes an original audio tour written and narrated by Mary Street Alinder, the renowned Ansel Adams biographer and authority on 20th century photography. This exhibition has been loaned through the Bank of America Art in our Communities program.

Museum Admission (audio tour included with all paid admissions):
Members: entry is Free – audio tour is $5.00
Non-Member Adults (18 to under 65): $15.00 including the audio tour
Non-Members Seniors (65+): $10.00 including the audio tour
Youth (6–17): $5.00 including the audio tour
Children (5 and under): Free
Admission is Free for residents of the California Veterans Home and Active Duty Military.
The Museum welcomes NARMS reciprocal members to the Spotlight and History Galleries, and select exhibitions in the Main Galleries. NARMS admission does not include audio tours and/or Special Ticketed Exhibitions. Our Main Gallery: Modern Women | Modern Vision exhibit is NOT included with NARMS admission, but Oscar Aguilar Olea and The Artists Studio are included!
At the turn of the twentieth century, photography had just begun to alter forever the way we perceive, engage and understand the world. Histories of photography long ignored or underrepresented women's contributions to the medium's development as both fine and applied art. In truth, women embraced photography from its introduction in 1839. A new invention, photography had fewer barriers for participation than painting or sculpture, for which women had long been denied professional training equal to that of their male peers. From 1900 onward, women negotiated waves of social, political and economic change, increasingly leveraging the camera as a means of creativity, financial independence and personal freedom. Disrupting longstanding constraints placed on women's behavior and roles, these early trailblazers helped establish photography as a vital form of artistic expression. They also laid the groundwork and served as role models for subsequent generations.
The exhibition is organized into six thematic sections, chronicling the trailblazing technical and artistic contributions of the artists who worked during each era:
Modernist Innovators – Early twentieth-century artists who broke with the past to explore new forms of expression include Berenice Abbott, Margaret Bourke-White and Imogen Cunningham.
Documentary Photography and the New Deal – Artists whose iconic imagery communicated current events across the U.S. during the Great Depression include Dorothea Lange and Marion Post Wolcott.
The Photo League – Members of this New York-based cooperative, who advocated street photography as an important part of a progressive social agenda, include noted American photographers of the mid-twentieth century such as Helen Levitt, Sonia Handelman Meyer, Ruth Orkin and Esther Bubley.
Modern Masters – The era of social and political upheaval after World War II gave impetus to many photographers to explore their roles in society, such as Diane Arbus, Cindy Sherman, Barbara Kruger and Graciela Iturbide.
Exploring the Environment – Contemporary artists who have used the camera to document their surroundings include Virginia Beahan and Laura McPhee, Bernd Becher and Hilla Becher, Terry Evans and DoDo Jin Ming.
The Global Contemporary Lens – Contemporary artists who explore new methods of rendering traditional subject matter include Candida Höfer, Carrie Mae Weems, Sandy Skoglund, Rineke Dijkstra and Karina Juárez.
---
Imogen Cunningham (American, 1883-1976) Magnolia Blossom, 1925
Gelatin silver print
© 2019 Imogen Cunningham Trust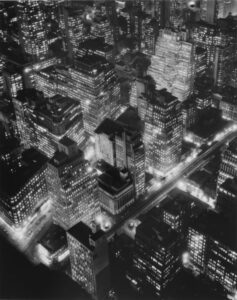 Berenice Abbott (American, 1898-1991)
Night View, New York 1932
Gelatin silver print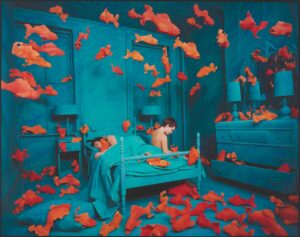 Sandy Skoglund (American, b. 1946)
Revenge of the Goldfish, 1981
Cibachrome print, AP 7/30
27 3/4˝ × 35 1/2˝
Bank of America Collection
© 1981, Sandy Skoglund
Esther Bubley (American, 1921 – 1998)
Untitled (Photomatic), 1942
Gelatin silver print
12 1/2˝ × 8 3/4˝
Bank of America Collection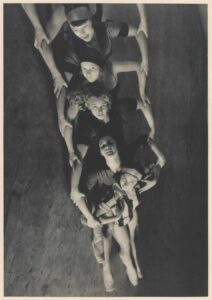 Margaret Bourke-White (American, 1904 – 1971)
Chain Belt Movement: Machine Dance, Moscow Ballet School, 1931, from Twelve Soviet Photo-Prints, 1934
Photogravure
13˝ × 9˝
Bank of America Collection
Berenice Abbott (American, 1898 – 1991)
George Washington Bridge, 1936, from the Changing New York portfolio, 1939
Gelatin silver print
19 1/2˝ × 15 1/2˝
Bank of America Collection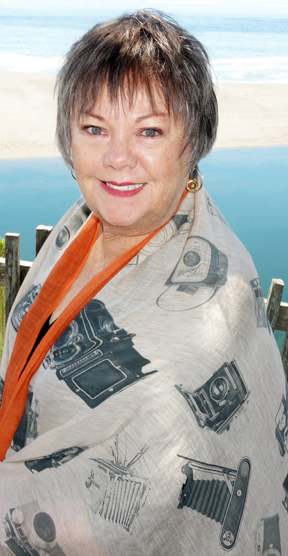 Mary Street Alinder, audio tour writer and narrator, is an independent scholar specializing in the history of photography. She is the biographer of Ansel Adams and an authority on 20th century photography. From 1979 until his death in 1984 Alinder worked as the chief assistant to Ansel Adams. In 1985, she completed the New York Times best seller, Ansel Adams: An Autobiography, followed by Ansel Adams: Letters and Images in 1988, which she co-edited.
Alinder's Ansel Adams: A Biography received starred reviews from both Publisher's Weekly and Booklist, whose critic wrote, "Alinder is as lucid on the topic of Adams' technical mastery as on his environmentalism and aesthetics, and she also tackles the muddle of his contentious private life with aplomb and candor." The Houston Chronicle described her book as, "enobling, moving." A second, updated edition published by Bloomsbury is now available. Alinder has authored, co-authored and edited a number of other books and articles on fine art photography.
Following more than a decade of rigorous research, Mary Street Alinder's latest work, Group  f.64, is the first book on this seminal photography movement, also published by Bloomsbury. Group f.64 has been reviewed worldwide, including major articles in The Economist, The New York Times, San Francisco Chronicle, and the Philadelphia Enquirer. New York Magazine selected it as the "read" of the month. And the starred review in Booklist, stated, "As she chronicles the photographers' friendships, tempestuous love lives, epic parties, scrambles to survive, passionate manifestos, heated public debates, social and environmental concerns, and hard-won exhibitions, Alinder achieves an f.64 degree of crisp and commanding detail in this landmark group portrait."
Alinder has curated many exhibitions worldwide, including the 1987 Ansel Adams blockbuster at San Francisco's de Young Museum and a 2002 Centennial Adams exhibit. She has lectured on Adams ever since he asked her to speak for him during the last two years of his life. Among many places, she has appeared at the National Gallery of Art, Washington, D.C., the Peoples Cultural Palace, Shanghai, and the Barbican Art Centre, London. She has been especially honored to be the keynote speaker at the Sierra Club's Golden Sierran Banquet, recognizing those who have been members for fifty years or more, and she was selected to present the prestigious Wallace Stegner Memorial Lecture at the Mountain View Center for the Performing Arts, California.
Alinder has appeared in a number of television programs including the Emmy award winning Ric Burns' film, Ansel Adams, and the 2017 documentary, "And Then They Came for Us." She has team-taught a course at Stanford University, "Lured to Taos: Artist Pilgrims in the Southwest," served with her husband as a cultural expert in photography in Guadalajara under the auspices of the United States Department of State, and been a visiting scholar at the University of Texas and at the University of Nebraska. She has recently appeared in two BBC international radio broadcasts speaking about Adams, "Sunday Feature" and "The Why Factor."