NOURISH
Main Gallery
September 19, 2015
■
November 29, 2015
nour·ish (transitive verb) 1. give food to somebody or something
2. support or foster something 3. help something develop
Opening Reception
September 18
5-6pm Members Preview
6-7pm General Admission
Free for Members/$5 for NonMembers
 
Napa Valley Museum, in collaboration with guest curator and artist, Nancy Willis, is thrilled to present NOURISH, a multi-faceted exhibition that examines the intersection of dining, hospitality and art from Napa Valley to the global community. This will be a unique chance to think about the way we relate to food and dining through the lens of art history and visual culture. An opening reception for NOURISH will take place on Friday, September 18, 2015 from 6-7pm, with general admission tickets for $5. Museum Members Only preview from 5-6pm.
NOURISH is an ambitious exhibition that spans centuries of thinkers and makers who address food, dining and service in their creative output. Work from over 25 artists will be on display including Kathy Aoki, Gale Antokal, Nikki Ballere Callnan (NBC Pottery), Sue Bradford, Will Callnan III (NBC Pottery), Heather Capen, Zoe Crosher, Richard Diebenkorn, Kim Dingle, Caitlin Williams Freeman, Liz Hickok, Paul Kirchner, Catherine Maize, Robb McDonough, Debbie Miller, Deborah Oropallo, NBC Pottery, Lucy Puls, Gideon Rubin, Meg Smith, Mark Stock, Wayne Thiebaud, Chris Thorson, Michael Tompkins, Nancy Willis and Bijan Yashar, Katherine Vetna among others. In addition to traditional visual artworks, NOURISH will present monotypes created by Napa Valley chefs, and drawings by Alinea's renowned chef Grant Achatz.
Artist and curator Nancy Willis, has spent twenty-five years in the Napa making art as well as working in the hospitality industry. Her immersion in both of these worlds is the genesis for the show's concept and informs the curatorial perspective. Willis discusses her vision for NOURISH: As an artist living in the Napa Valley I have had a dual professional life; in addition to a committed studio practice, I have worked nearly every position in restaurants, as a prep chef for an iconic catering company to my current position as a design instructor at the Culinary Institute of America. These experiences have afforded me a unique perspective that has illuminated the perpetuating influence between the two industries and on my own work. With NOURISH, I want to offer a new perspective about where I live and celebrate the beauty, strength and relativity of the arts as a vital source of daily nourishment.
Live Stream from La Maison Pic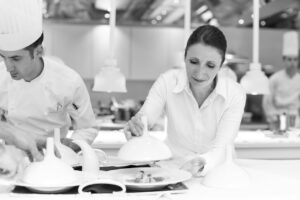 Trois Étoiles
Three stars shine brightly in Valence, France and they are coming from the kitchen at La Maison Pic. Anne-Sophie Pic, France's only female chef to earn 3 Michelin stars since 1933 opens her kitchen to NOURISH in this rare opportunity to see the love, labor and creativity that goes into each plate.
Live stream direct from France, only at the Napa Valley Museum
Wednesday through Saturday 11 to 3 PM (La Maison Pic is closed on Sundays)
Sunday Soup
October 25
5pm
$10 per person
Join us to NOURISH Napa Valley with the creation of a micro-grant to support local artists. For just $10 attendees get a delicious soup dinner and a vote to support one special project. Proposals will be presented during dinner and awards made at the end of the event consisting of ticket proceeds. A special guest chef will create a delicious soup, perfect for fueling discussion and engagement. Grant applications will be accepted in the weeks leading up to the event. DEADLINE EXTENDED TO OCTOBER 23! 
Curator Walk Through
November 18
11am
Included in the price of admission
Join guest curator Nancy Willis for an enlightening walk through of the exhibition. Hear about her inspiration for the exhibition, her process of choosing artists, and learn about how each artist's body of work relates to the theme of nourishment.
Hor d'oeuvres for the opening reception generously donated by
| | | | | | |
| --- | --- | --- | --- | --- | --- |
| | and Marlee Rodrigue | | | | |
Images from the Opening Reception