The Surrealist Revolution in America
Main Gallery
July 27, 2019
■
October 27, 2019
Main Gallery
July 27, 2019 through October 27, 2019
guest curator Kendy Genovese
This comprehensive survey explores the Surrealist revolution of thought and the role chance and choice played in the evolution of the avant-garde in America. The exhibition features original paintings, drawings and objects by Enrico Donati, Jimmy Ernst, David Hare, Gerome Kamrowski, Gordon Onslow Ford and Kurt Seligmann.
The Museum will be open on July 27 from 11 to 3 pm; closing one hour early to prepare for the Opening Celebration
For Opening Celebration information and tickets Click Here
Museum Admission is $15: Adult (age 18-64); $7.50: Seniors (65+) and Kids under 18. Admission is Free for Museum Members, residents of the California Veterans Home and Active Duty Military.
Photo: ENRICO DONATI IN HIS STUDIO, 1950'S, PHOTO BY TONY VACCARO
In the aftermath of World War I, a group of writers and artists led by André Breton formed a new movement they called Surrealism— "beyond the real." The world was in crisis, characterized by political unrest, economic distress, and uncertainty for the future following the horrific destruction of both lives and order during the war. Armed with the irrational and committed to the unconventional, this group mounted a revolution of consciousness to find and redefine meaning in this new world. Surrealism would last for more than four decades and be the last formal and cohesive movement in modern art whose undeniable influence would permeate every art movement that has come since.
Between 1939 and 1941, many of the giants of European Surrealism were forced to decamp to the United States to escape the impending fascist war. It was only when the émigrés arrived in the U.S. that the true impact of the intermingling of artists, ideas, and cultures could be fully appreciated. Not only would this displacement have a profound impact on a new generation of American art, it would likewise have transformative effects on the émigrés themselves, whose reaction to their new environment — the landscape and lore of the new worlds — would result in some of the strongest and most groundbreaking work of their careers.  This exhibition follows many of the artists critical to this exchange. It is a map — of ideas, of people, and of forms — which helps to explain a historical period of extreme searching and finding as the center of the art world moved from Paris to New York and Abstract Expressionism was born.
HISTORIC PAINTING INCLUDED IN THE EXHIBITION: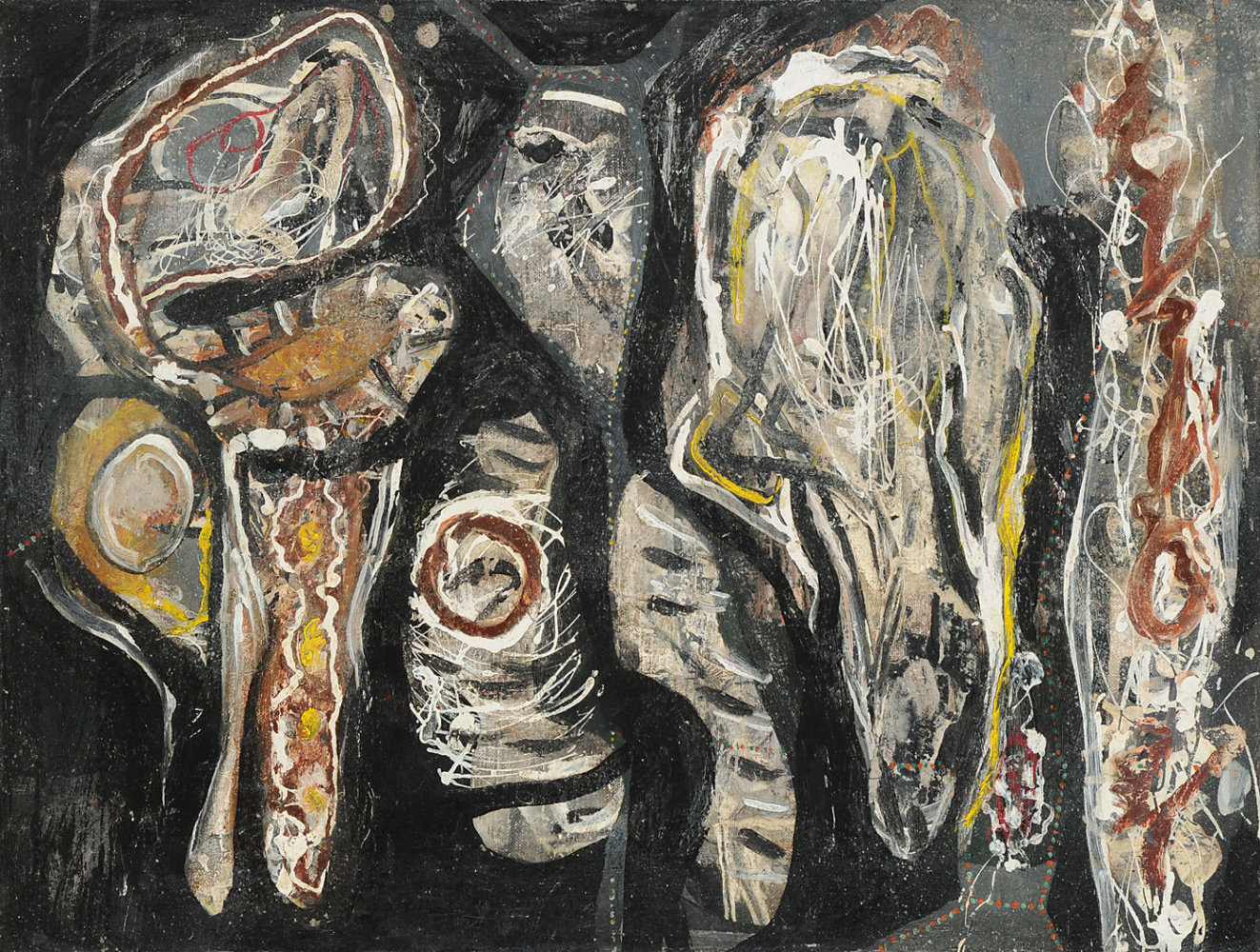 "Collaborative Painting," William Baziotes, Gerome Kamrowski and Jackson Pollock, 1940-41, Oil and enamel on canvas
The exhibition features a historic work known as "Collaborative Painting," completed in around 1940 by William Baziotes, Gerome Kamrowski and Jackson Pollock. The painting is regarded as the first example of Pollock's use of the "drip" technique that later made him famous. Its creation was described in the book Surrealism in Exile and the Beginning of the New York School by Martica Sawin:
"One evening in the winter of 1940 – 1941, Baziotes brought Jackson Pollock over to Kamrowski's studio, and the three artists began experimenting with quick-drying lacquer paint that Baziotes had bought at Arthur Brown's art supply store. They spread some cheap canvases out on the floor and began brushing and then dripping the paint onto them. In the process of 'fooling around,' as Kamrowski called it, they all worked on the same canvases and during the course of the evening produced a number of collaborative spontaneous works. All three artists already had some knowledge of Surrealism and were familiar with the concept of 'pure psychic automatism,' and they were trying to find ways in which the new quick-drying paint developed for commercial use could be put to this end. When Kamrowski moved out of that studio… he threw out most of these experimental canvases but kept one as a kind of souvenir…"
This use of commercial paint that dried quickly permitted "a freer way of applying paint to go further with the psychic automatism," according to a 1996 New York Times article by Phyllis Braff: "They tried dripping, pouring and flinging the loosely flowing material. The result is a dark surface bearing bold biomorphic shapes activated by overlapping lines of varying widths. Lines alternately strike a course, then swirl and loop unpredictably, inviting the eye through a maze of visual discovery. Where these energetic strands loop into the canvas's black areas, they eliminate the separation between image and background and suggest the shifting ambiguities that were so important to subsequent phases of abstraction."
This extraordinary and historically significant painting, along with other groundbreaking works from the giants of Surrealism, are on display at the Museum through October 27
THE SURREALISTS