Tiki Dreams: From Far-Away Fantasy to Pop-Culture Phenomenon
Main Gallery
May 20, 2023
■
December 31, 2023
More than Mai Tais and swizzle sticks:
Learn how California's iconic tiki lounges and restaurants, including many in the Bay Area, inspired a global art and design movement.
On exhibition May 20 through December 31, 2023.
Tiki is an art, design and cultural movement dating back to the pre-WWII era, when visionary California restaurateurs created lavish Tiki Rooms evoking mysterious exotic lands, and which saw growing interest when soldiers brought home souvenirs from the South Pacific, and commercial air travel to Hawaii became common. Much of the history of the Golden Age of Tiki was written in the Golden State, in tiki lounges from Southern California's Don the Beachcomber to iconic Bay Area outposts like Trader Vic's and the Tonga Room. Curated by Baby Doe & Otto von Stroheim of Tiki Oasis, this exhibition illuminates California's leading role in creating and defining Tiki as an American pop-culture phenomenon, showcasing artifacts from Northern California Tiki bars and restaurants, many of which have never been exhibited before. Works by contemporary Tiki artists will also be featured, celebrating the movement's enduring influence and exciting future.

Monthly events featuring top speakers from the worlds of art, design & mixology will accompany the exhibition, including curated tastings showcasing current Tiki bars from the Bay Area. A special selection of curated collectible products will be available for purchase in the museum store. Some of the artwork on display will be for sale at the conclusion of the exhibit and at the December 2 Tiki Marketplace event.
VISIT OUR TIKI PARTY EVENT SITE – it's a total Tiki Takeover all year, with these great parties and events!
Regular Museum Admission:
Members: entry is Free
Non-Member Adults (18 to under 65): $15
Non-Members Seniors (65+): $10
Youth (6–17): $5.00
Children (5 and under): Free
Admission is Free for residents of the California Veterans Home and Active Duty Military
This exhibition is not included with NARMS membership, but members are welcome to visit our Spotlight & History Gallery exhibits. This exhibit IS included as part of the Museums On Us program through BofA/Merrill Lynch.

check out this great video feature from the Town of Yountville!
---
About the Curators
Tiki Oasis is the largest and longest-running festival in the world for lovers of Island lifestyle and purveyors of Polynesian Pop. Guests enjoy tropical cocktails by the pool, exotica music and more! Tiki Oasis is produced by Baby Doe & Otto von Stroheim. This dynamic duo has been producing events for over 27 years including the popular annual events:
(Scottsdale April 2023) and the largest Tiki weekender on planet earth,
(San Diego August 2023). They have a passion for preserving Mid-Century Modern history through education and action. Otto and Baby Doe have been featured in documentaries, books, newspapers and magazines.
Their newest project is Resort-O-Rama, a Northern California weekender focusing on Mid-Century design, style and history.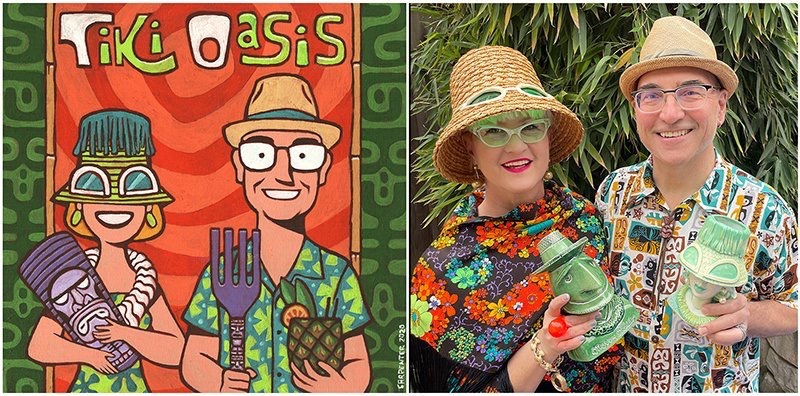 ---

Featured images:
Trader Vic's "Suffering Bastard" tiki and the Golden Gate, courtesy of Trader Vic's; Trader Vic's sign, photo by Heather David, courtesy of Trader Vic's; San Francisco's Tonga Room