Les Femmes Surréalistes
Spotlight Gallery
October 16, 2019
■
October 27, 2019
From October 16 through 27: Les Femmes Surréalistes, an exceptional pop-up exhibition at the Museum with paintings by Frida Kahlo, Leonora Carrington, Leonor Fini and others.
Admission is FREE with regular Museum Admission and during the Making HERstory Conference from October 26 – 27.
The Napa Valley Museum Yountville announces the opening on October 16 of an extraordinary two week "Pop-Up" exhibition in the Spotlight Gallery: Les Femmes Surréalistes, featuring the original paintings of Frida Kahlo, Leonora Carrington, and Leonor Fini among others. The exhibition celebrates the upcoming two day conference: Making HERstory: Today, Tomorrow and Yesterday – Reclaiming women in the arts, as well as the last two weeks of the Museum's landmark exhibitions: The Surrealist Revolution in America and Juanita Guccione: Otherwhere.
The highlight of the exhibition is undoubtedly: Autorretrato en Miniatura, the smallest self-portrait ever painted by Frida Kahlo (Mexican, 1907-1954), the legendary Mexican artist.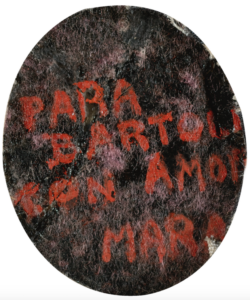 According to Sotheby's, which handled auction of the work in 2011:
Frida Kahlo's oval Autorretrato en miniatura is the smallest painting she ever made. It is also one of her most powerful. The power does not come, as it does in her portraits of herself injured or in tears, from the urgency with which she presents her predicament. Rather it comes from the force of her presence. Within this tiny oval she has packed a charge of energy that brings to mind the Surrealist poet André Breton's description of her art as "a ribbon around a bomb." http://www.sothebys.com/en/auctions/ecatalogue/2011/a-discerning-eye-latin-american-n08794/lot.12.html
The miniature, which measures only 2 by 1 5/8 inches, is believed to have been painted by Kahlo in 1938, in oil on thin panel with tin border. Kahlo painted this self-portrait for the Spanish artist José Bartolí, with whom she was reportedly romantically involved for several years and he kept it all of his life. According to Sotheby's: the dedication on the reverse side reads "Para Bartolí con amor, Mara", (for Bartolí with love, Mara). "Mara" was Frida's code name that she and Bartoli used in their correspondence to each other.
For more about this exceptional work, read this excerpt from the Sotheby's auction catalog.
In addition to the Kahlo work, the Pop-Up exhibition includes works by many of history's leading female Surrealists including the renowned English artist Leonora Carrington, acclaimed Argentinian Leonor Fini, plus Alice Rahon, Bridget Tichenor, Kay Sage, Stella Snead.
Featured image above: Frida Kahlo, Autorretrato en miniatura`c. 1938, Oil on panel.
This exhibition is made possible in part by a grant from the Napa County Board of Supervisors and by the members and supporters of the Napa Valley Museum.